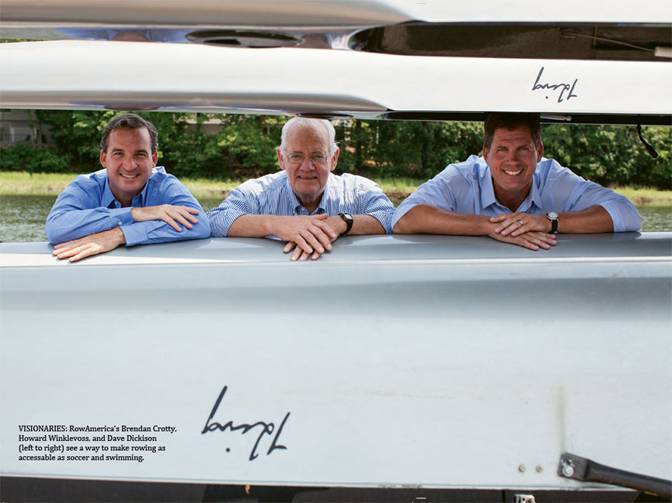 Feb 19, 2015
Out of the Box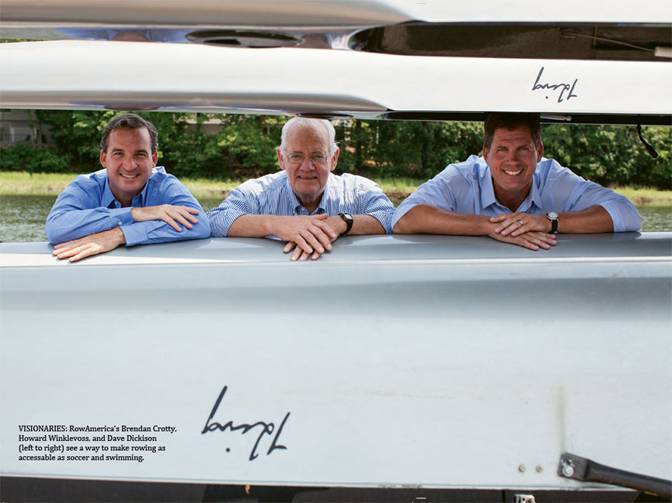 RowAmerica's crew say their turnkey solution for bringing rowing to the masses will change the face of our sport.
Don't bet against them.
What if all the barriers were taken away? As a rower, you know what I mean. Rowing is complicated, and expensive, and elite. But what if rowing clubs were as prolific as, say, soccer clubs, and your children could join the town rowing club just as they would the soccer or the swim club?
Howard Winklevoss knows what a rowing club can do for young people. And he knows the barriers that stand between a young rower and his or her access to the sport. Fifteen years ago, his sons—Winklevoss twins Tyler and Cameron—came home from rowing practice one day and told him the land their rowing club was on was about to be bought by a developer and turned into condominiums. They asked if he could buy the land himself and keep the club going.
Winklevoss is a commanding man. When I met first met him, I felt his energy—his spirit—before I felt the hand he had extended to me in greeting. His eyes sparkled when he spoke, and I found myself having to backtrack several times, asking for clarification, because I was wrapped up in his intensity, his drive.
I couldn't quite focus as I sat across the table from Winklevoss; there was something I had never felt before during an interview. It was as if he wanted me to know his story already, he wanted me to get past the story and into the ideas he was trying to share with me. It wasn't his story that he wanted to tell me about, it was the vision he had, the picture of what he saw, and knew he could make happen. I was blown away in the first five minutes, but I had no idea what was about to come.
"Saugatuck was a $10 million venture that didn't have to be $10 million." Winklevoss explained to me how he did buy the land his sons' club was on, tore down the barn that housed the shells and ergs, and built what would become one of the most successful rowing clubs in the country, Saugatuck Rowing Club.
In the process of starting Saugatuck Rowing Club, Winklevoss put into practice what he had learned from starting his first company, Winklevoss Technologies, a software company he masterminded while he was a professor at the Wharton School at the University of Pennsylvania in the 1960s and '70s. "The key," he said, "is understanding the things that keep you from success, and solving those things."
"We learned a lot from Saugatuck." Winklevoss nods to Brendan Crotty and Dave Dickison, the two men who are at the helm of the companies Winklevoss has started to help his vision become reality.
"We bought $500,000 worth of rowing shells, and then found we had to replace them after three or four years. We had to commit a huge footprint to house the shells. We couldn't find the coaches who really understood how to get our rowers to excel. And," Winklevoss smiles with a twinkle in his eyes as he speaks, "I knew most towns couldn't find a man fool enough to do all this."
Through the process of running Saugatuck Rowing Club, Winklevoss did what any true entrepreneur would do: he solved each problem that stood in his way. To keep the club's equipment costs down, he realized there were technologies that could produce a more durable rowing shell at a fraction of the price. He found one of the best hull designers in the world, Klaus Filter, who was already building shells for a manufacturer in China. Winklevoss took a trip to the factory. From that trip, WinTech Racing was born.
Winklevoss slows a bit to let me catch up and Crotty, the president of WinTech/King Racing Shells, takes up the story. "State-of-the-art, pre-impregnated, uni-directional carbon fiber." I look up at him, a question in my eyes. "We wanted the highest quality materials in our boats. These are boats that are affordable for the club, and that you don't have to baby."
To solve the problem of needing such a large footprint for storing the shells inside, they changed their painting process. "What item in your life sits outside all year?" Crotty asks. I look up at him but don't answer quickly enough.
"Your car. Our boats are painted with a catalyzed urethane enamel, just like a car. They don't need a boathouse anymore, you can store them outside."
Winklevoss explains, though, that the biggest key to success is not excellent equipment or a fancy boathouse. It's excellent coaching. He worked with the one coach who was getting results for his club, Nicoleta Mantescu, a former member of the Romanian National Team. "I handed her a plane ticket back to Romania and said, 'If you can find six people to come over [to the United States], bring them back with you.'
She did, and in a few years we went from being a decent club to being one of the top clubs in the country."
I've coxed masters races against Saugatuck, and lost. I look across the table at Winklevoss and take a risk, "I hate it when you beat us." I tell him. He looks me right in the eye and smiles that electric smile of his, "I love it," he says.
As so it went. As Winklevoss's club grew, so did the demands and needs. When they needed repair services for their boats, Winklevoss started RowAmerica Boat Repair. When he couldn't find a launch that met all of his coaches' needs, he began building a line of WinTech launches. Docks, boat storage racks, adaptive rowing equipment… the list goes on.
And here is where that afternoon when his sons asked him to buy their club so they could keep rowing comes back into the story. "I knew this sport had been a wonderful thing for Tyler and Cameron, for our family. I knew it was time to give back." Winklevoss pauses and a quiet settles over the room. "That's when I hired my friend here." Winklevoss nods across the table to Dave Dickison. "My dream is to have RowAmerica clubs all across the country."
Dickison, the man sitting next to me, is tall and broad-shouldered. He has a rower's physique, chiseled from years spent as an elite Canadian rower. Dickison is the president of RowAmerica Boat Clubs, the newest of Winklevoss's companies. He joined the team of Winklevoss and Crotty to complete the trio who is focusing on bringing a new approach to rowing clubs all across the country.
"This is the guy," Winklevoss says. "Well-known, highly-respected. He built 10 clubs in Canada. I've got the right guy."
That "guy" smiles at me, a mix of pride and humility, not knowing exactly how to respond. What happens next is a torrent of information. Dickison starts explaining the model for RowAmerica Boat Clubs, but can't do it sitting down. He goes to the whiteboard and starts drawing.
"How can we get into a site and bring all the amenities to win and at the same time keep the cost down?" Dickison starts explaining what he learned in the decades he spent in Canada helping to build the sport.
"You can either focus on eight athletes, for a long time, and hope they'll become the next great boat, or, you can do what every other sport does—soccer and swimming are great examples—and have hundreds of kids learn the sport when they're young. If you give them the right tools, the right equipment, and great coaching, the elite will rise to the top."
He looks directly at me and I can almost feel the years he spent developing his approach. "If you give the kids support, the elite will rise to the top, yes, but, along the way, all of the kids—all of them—will find a little more of themselves." Dickison's words tell me that his own spirit came alive when he started rowing.
Dickison goes on, "If the major barriers to starting a rowing club were removed, and every town with a rowable waterway could launch a rowing program without investing millions for equipment and a boathouse, what would our sport look like? And if this really was possible, what would our college and elite athletes look like in 10 years, or 20 years?"
I interrupt. "But, wait, Dave, what's the business model?"
"This." Dickison finishes the drawing on the whiteboard. "In Year 1," he points to the first of three chevrons he's drawn, "our goal is for each club to have 200 junior rowers. We bring in the right boats—work boats—for these rowers to learn in. Wide boats, stable boats. Singles, doubles, quads."
"You bring the boats in?" I ask.
Crotty leans across the table, "RowAmerica is a way for a town to start a rowing club without investing millions, like Howard did. We've learned so much from the last 15 years. We've put it all together and now are bringing it to towns who want to get their kids rowing."
I scribble frantically, trying to keep up with the wash of information coming at me. After a solid five minutes of notes, here's what emerges: All of the development and learning and tweaking these men have done—from launching a club to boat design and production to developing coaches and launches and athletes and business models—has been put together into a program for rowing clubs to spring up.
If a town or group has a rowable waterway and community support, they partner with RowAmerica to start their club. Dickison does a site visit and assessment. "I know in the first 10 seconds if the site is right," he says. He meets with the mayor and the community members who want to have rowing as a part of their hometown. He does an analysis of the available land and waterway, as well as the population base. Think of this as a scouting trip. If there's an infrastructure of support in the community and the right physical attributes, the partnership begins.
RowAmerica begins the process of getting a simple structure built to house the ergs, coaches, and have a gathering place for the rowers. "You won't believe what's available in this industry," Crotty says. "Steel frame structures, fully-insulated, with a lifetime guarantee."
Next, RowAmerica delivers a trailer filled with the first-year boats. Dickison points to his chevron diagram again. "The first year is the beginning. The rowers have to feel confident and successful in the boats. So we bring in the boats they'll learn in and be successful in."
RowAmerica brings launches for the coaches, coxing equipment, docks, oars, and boat racks. They handle the recruitment and hiring of the coaching staff. They bring the program of skill development Dickison has worked for years to develop. RowAmerica even does the payroll and brings the marketing banners and flyers. Think of it as a rowing club in a box.
"We bring in a business plan. It's like leasing a club and all of the things you need to be successful." Winklevoss goes back to the entrepreneurial lens through which he sees the world. "We lay out what the club has to do each year. There are membership targets they have to hit. They have to have some skin in the game." He stops here and the two men sitting next to me wait; they know he's not done.
"Our main goal is to expand rowing to the juniors. I can't tell you how many parents have grabbed me by the arm and said, 'Saugatuck rowing has saved my kid's life.'" That Winklevoss sparkle is in his eyes again. "That's what we're trying to do all across the country."
Dickison taps on the whiteboard with his finger. "In Year 2," he points to his second chevron, this one a touch smaller than the first, "we bring in the next set of shells. Bigger boats. Fours, eights. A little faster. And now they start racing outside their club."
"They don't race in the first year?" I ask.
"Oh, they'll race within the club, but the worst thing we can do is put first-year juniors on the starting line when they're not ready. There's no education being in a race you shouldn't be in. We're looking for success here. Swimming clubs do this really well. They start with races inside their club, then they take the kids to meets." He turns back to the whiteboard and draws the third chevron again, this one smaller, and with a point on it that forms an arrow of sorts, pointing toward the right.
"In the third year, we bring in the racing shells and the kids now have the foundation to row these, and do well." He turns to his co-conspirators. "We want to get all the excuses off the table."
Winklevoss is sitting back in his chair, enjoying this demonstration of expertise Dickison brings to the vision he has for rowing clubs all across America. "Saugatuck doesn't win races because of the boathouse. It's the coaching, the approach. And it's having access to good equipment."
Crotty jumps in and explains the next chapter of a RowAmerica club's development. "In the fourth year, we replace the shells we brought in during Year 1. This keeps the equipment level very high, and it allows us to offer these shells on the used-boat market."
Each year, the boats that are three years old get replaced, and the club simply stays in the partnership with RowAmerica. "Think of it like leasing a car instead of buying it," Crotty says.
"Can it really be this simple?" I ask, and am bombarded with laughter.
All of three throw out the projects that brought them to this point and I realize from the cacophony of investments and lessons and business ventures they are reminding me of that it isn't simple at all. It's the culmination of 15 years of learning that now is being packaged into a single offering. It's the dream that Howard Winklevoss has of doing what he did for his own children, but on a larger scale.
"I like to build things." Winklevoss tells a story of building a car when he was in high school. "I worked on that thing every night," he says. "When you're building a car you have to think ahead, the lights, the electrical … it's the same with building software. You have to design the end point first." Winklevoss stops and I can see him reminiscing back to his first business. I realize this one isn't so different. Winklevoss catches my eye. "And you have to hire people who are smarter than you."
Dickison and Crotty sit back. They have so much more to share with me, but just as their business model is a partnership with the towns with whom they're working, this trio of leadership is a partnership as well, and they wait for Winklevoss to finish.
"The club Dave's working on right now," the newest RowAmerica club has just opened in St. Charles, Ill., "they had 33 kids on the water last week." Winklevoss waits for a beat. "That was five weeks after they called us for the first time," he smiles. "Five weeks to water."
Posted In: